Virtual Horse Racing Betting Sites
Its been around for a good few years, but virtual horse racing is really only just starting to get in to a gallop. At Mobile Bingo Bonuses we have always loved the glamour of the races, so with virtual racing you can have your very own ladies day anytime you like.
It's probably no surprise that as mobile casino and sports betting sites become more popular, virtual horse racing has also seen an increase. Not only can you bet on racing at any time, you can also bet anywhere on a mobile phone or tablet device
Best Virtual Horse Racing Sites;
What is Virtual Horse Racing?
Virtual horse racing isn't actually a new concept, it even precedes the world of online gambling. Race nights were a great way to raise funds for local sporting teams, and the premise is very similar. Pre-recorded horse races would be shown using fictional names, jockeys and trainers, and you would try and pick a winner.
Technology has come a long way though since social club race nights, you no longer have to sit in a smoky pub for a start. 3D or pre-recorded races are shown several minutes apart, giving you plenty of time to study the fictional form.
Although the races and venues aren't real, the odds and winnings certainly are. Each race features realistic betting odds, with favourites getting backed in as punters place their bets. A lot of sites allow you to bet on virtual horse racing in demo mode, helping you see how things actually work.
Where Can I Bet on Virtual Horse Racing?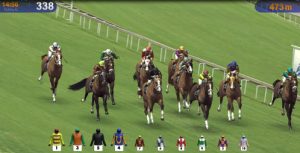 You'd be forgiven for thinking you would have to head to an online or mobile bookie to get your virtual betting fix. But as well as popular betting sites like bet365, you can also put a line on at casinos. BoyleSports Casino is one such site that offers casino games, whilst being forward thinking enough to offer virtual racing.
While betting sites offer generous welcome bonuses, online casinos almost throw cash bonuses at you.
Netbet Sports are not only tech savvy enough to offer virtual sports, they also allow you to bet using your phone credit. Pay by mobile is fast becoming the most popular way to deposit, so why not give it a try.