Valentines Day Mobile Bingo Jackpot
Mobile Bingo Bonuses know that love is in the air, as what is supposed to be the most romantic day of the year approaches. Whether you're taking a loved one out for a romantic meal, catching the latest movie at the cinema, or just curling up on the couch, you could be a little bit richer this Valentine's Day. Regardless of how you feel about it, if you love it or hate it, Kitty Bingo are making a big deal of Valentine's Day, and everyone can get involved with two great big £300 jackpot games available on the special day itself.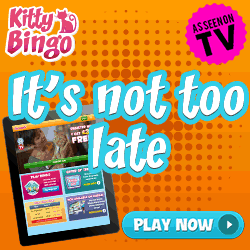 But don't worry about possibly missing out if you do have plans with a loved, or are rebelling by having a rebellious non Valentine's night out with your friends, as there is a pre-buy option for your tickets, meaning you can ensure you're in with a chance of scooping the jackpot without actually needing to be logged in and playing.
This promo is made for the cuddly loved-up kitty and for the single independent kitty, cupid has prizes for all! Go to the "Love It" room for your chance to win a £300 restaurant voucher to celebrate love with your other half. Go to the "Hate It" room if you want to win £300 cash just for you!
How to Play: Pre buy your cards for both games in the Valentine's Day tab in the lobby
Dates: 14th February
UK Time: Love It game @ 8pm; Hate It game @ 9pm
Place: Valentine's Day tab in the lobby
Card Price: 20p
Prizes: Love It: £300 restaurant voucher – Hate It: £300 cash
Kitty Bingo Welcome Bonus
As a new member of the Kitty Bingo family, you can enjoy a 300% bonus, simply make a first deposit of £10 and you'll receive £30 bonus, or deposit £50, get £150 and play with £200!
What's more, make your deposit within 10 minutes of registering and you'll get a special extra bonus of up to 20 spins to try out some fun slot games!
This massive welcome offer is available for a limited time only so take advantage of it today!