Slot Machine Pay Tables
Over the last couple of decades there has been a huge growth in the slot machine market, with developers clamouring to create the next fan favourite. The advancement in technology is exponential, especially when you compare it to the old mechanical land-based slot games, which were quite simplistic. For most you simply hit play and after the reels have spun, if you landed three matching symbols then you are a winner. The coin amount received would depend on how much the symbols were worth.
In the aim of growing the slot game movement, designers started adding in exciting bonus features and wild symbols. Because they were more detailed and complex, it was essential that players had an area to find the information needed to play the game. This is why slot machine pay tables exist and why they hold an important role in our online play.
If you're new to the term pay table, then we will explain what they are, why they are useful and the impact they have on your online slot gaming.
The growth in the online gambling market and a move away from the restrictions of land based, gave game designers an opportunity to go wild. Now we can explore new destinations with a variety of characters, including top TV shows and movies. Alongside what feels like an endless choice of themes, are icons and symbols which create more ways to win. This was something that had been rare on the old land-based machines, which offered limited reel options.
Finally, there was the introduction of bonus features, which added an extra level to the game. Having a bonus section meant you could play in another format that didn't just involve spinning a reel. There are many types of bonuses in online slots, but they tend to ask the player to choose between multiple options to win extra prizes such as spins or coins.
Throughout the evolution of slots online, there has been one consistency and that is the slot machine pay table. Which means that they must be essential for game play if they have been a staple element for so long.
If you found a new game and decided to play it, you may struggle to understand how it works. This includes what the symbols mean and how much they're worth, whether there's a wild and a bonus feature. Some of the newer games have extra pay lines which adds more complexity.
With such a variety of rules which govern how the game will play out, it would make sense that the slot should come with an instruction manual. That is pretty much what the pay table is and why it is so invaluable.
When you read through this guide, we would recommend that you open a pay table on a slot game of your favourite casino. This will make it easier for you to understand how the game works and then you can consider other aspects, such as volatility and variance to establish patterns for winning.
What is a Slot Pay Table?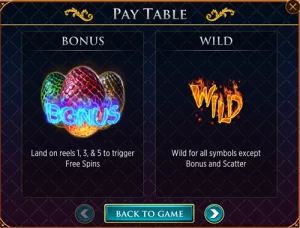 We've already slightly touched upon what a slot pay table, otherwise known as a pay chart is, but here's a little more detail. Say you have picked a completely new slot game and you have no idea how to play it. You will want to establish what the symbols mean and the various combinations that will help you win. This is the information you will initially find on the pay table because it is the most important. As well as this you will also find what payouts are given on the game, which is displayed as coins.
Obviously, you can also expect to see what wilds and scatter symbols are used in the slot, but the pay table will also explain how they are used. To give you an example, what symbols trigger bonus rounds and what are the minimum and maximum prizes available.
Finally, your chosen game may have a progressive jackpot, which can significantly impact the game. There are terms and conditions normally connected to progressive jackpots, so it's important to be aware of what they are. An example of this would be that in some games you have to play all pay lines to be eligible to take part.
Rules such as this can be an issue for gamblers, which is why it's important that the pay table is easily accessible as you play. It may be that you already had an idea of how the slot game worked, but for many the information is needed so that they can adjust their gambling style, such as the amount wagered per spin. Many gamers make the mistake of simply hitting the spin button without establishing the rules of the game. That can lead to your credit disappearing quickly before you have an idea of what you are doing.
Where to Find the Pay Table?
Such important information should be found easily because it can have an impact on how we choose to bet. The area where the pay table will be found depends on the platform you have chosen, but our advice is to look for an 'i' for information, or the word 'pay table'. For desktop players you will see a link at the bottom of the screen which will take you to the pay table when you click on it. With mobile devices you simply need to swipe left or right to be transferred.
The information provided will depend on the game, but generally the initial page offers a brief outline including the symbols and their value. So, if you're after the basics then this is the best place to go. There are further pages which go more in-depth depending on the game, and they will be indicated on the screen.
Understanding the Information Given in Pay Tables
Pay tables are normally very simple to understand, so most players don't struggle. This is because they need to be easy to follow so that we know how to play the slot game. So, whether you're a gambling novice or an expert, you should find everything easy to comprehend.
In general, the main sections of slot games tend to be the same, apart from the look of the table and any information provided, for example is there a bonus feature element or progressive jackpot.
The most important part of the pay table is the value of each symbol. This is shown as images of winning combinations and the coin amounts that would be won if it landed. To give you an example using a typical 5-reel slot game, you will see the outcome of winning three of a kind, four of a kind and the jackpot of five of a kind.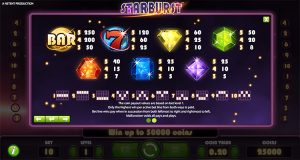 It's not just the main symbols which are in the pay table, you will also discover any wild and scatters, and how they trigger bonus features. If there is a progressive jackpot, then how does it work and what terms and conditions accompany it.
Unlike the old-style slots, most modern games will have a variety of pay lines, so you will need instruction about how they work and in what way they influence your winnings; again, this can be found in the pay table. If you are unsure what we mean by varying pay lines, it is the combination of symbols which create wins on the game. Now in many newer slots it can be completed in a number of directions, such as left to right and right to left. There are even some games who have added shapes to their pay lines such as zigzags and trapeziums.
Finally, an important area which can also be found on the pay table is the RTP otherwise known as Return to Player. Players can use the RTP to work out the volatility and variance of the slot, which can influence how you play and the results. This information is a little harder to find, so make sure you look at the end of the pay table. Slot designers are wary of sharing the RTP, as they feel it puts gamblers off playing their games if the percentage is lower than others.
When you actually arrive on the pay table, you may be surprised that you do not see all the information we have mentioned above. On most games this is because there are multiple pages, each with a section on how the game works. The majority will have the symbols and winning combinations on the initial page, but we would recommend moving through to the other pages, so you have a clear picture of the game.
How Pay Tables Benefit Online Slot Players
We have gone through the basics of what a pay table is and where to locate it, but why even bother looking in the first place? We've already gone through many of these points, but here are a few of the benefits summarised to make life a little easier.
Makes understanding the online slot game much easier – Because you have an instruction guide to the game, it will make understanding how it works much easier. This will not only save you time in the long run, but hopefully it will help with your gaming.
Shows the pay lines – We have seen pay lines become more varied and complex, so having an understanding of how they work is essential. The pay lines have an impact on your winnings, so adapting how you play to that specific game would make sense in the long run.
Instructs you on the bonuses – Bonuses are another area important to the game, as they can help trigger bonus features as well as win prizes. Many slot games will offer free bonus spins, which is a godsend when you're low on credit.
Discover the slots RTP and Volatility – For the more experienced players out there, the RTP is a good indicator of how the game will pay out. This means they can determine if it has a high or low volatility and is worth spending the time on. For general players you will always want to look for a higher percentage RTP as this generally means greater returns, although that's not always a given.
Summary of Slot Machine Pay Tables
Many players aren't even aware that the pay table exists, as such it doesn't always get the glory it rightly deserves. It is an incredibly useful tool for gamblers, so whether you read through all of the information will depend on the type of player you are. Some gamers prefer to just spin and enjoy the wins when they come, which is totally understandable. But if you prefer more of a strategy then it would make sense to get the basics of how the game works.
If you are short of time, then even just knowing what the symbols, wilds, scatters, and winning combinations are, will make a huge difference. The key to making the game more exciting is having the knowledge on what we're looking for to win. After all the thrill of a win is the reason we're gambling in the first place.
As well as this guide we have others including Landline casino payments and Ilixium Online Casino Payment.