Karrot Mobile App Bingo Deposit
When it comes to new and exciting ways to fund your bingo account, you can be sure that Mobile Bingo Bonuses are the first to know. Which is why we are able to tell you about making a Karrot mobile app bingo deposit before anyone else.
What makes this deposit special, is the fact that its complimentary! This is due to the unique way in which the Karrot Mobile App works, especially when paired with Boku. Boku is our favourite deposit method and now you can utilise it to claim bonus credit from Karrot, at bingo sites like Boyle Bingo.
Karrot Mobile App!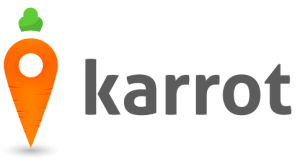 So what is the Karrot App I hear you ask? Well to put it simply, it's a point's scheme that rewards you whenever you spend at national retailers. Where other reward schemes can be restrictive, Karrot actually allow you to claim cash as your reward.
All that is required is to register with Karrot, then spend as you normally would at a range of  UK retailers. The App can be used when purchasing items from American Golf, The Trainline and many more.
With every purchase you will accrue points, which can then be redeemed with your mobile phone provider. Data bundles and cash amounts can be claimed against your monthly contract or pay as you go credit.
Making a Karrot Mobile App Bingo Deposit
So here comes the interesting bit, how exactly do make a Karrot Mobile App Bingo Deposit? Well it actually comes in two simple to use stages.
Assuming you have amassed enough points to claim a reward, visit the Karrot App to redeem your points in return for cash credit against your mobile bill. Once it has been applied to your mobile account, all that's left to do is turn your bonus cash into a Karrot Mobile App Bingo Deposit.
Visit any mobile bingo site that accepts Boku pay by mobile depositing, we recommend Boyle. Sign in to your bingo account and select Boku as your deposit method, then when choosing your deposit amount simply add the credit you received from Karrot.
And that's how you make your very first Karrot Mobile App Bingo Deposit. If you're not a fan of the bingo providers mentioned, why not check out these Boku bingo sites.