Comfy Bingo Fabulous February Bonus
February is renowned for being the most romantic month of the year, thanks to the much celebrated Valentine's Day. It's a time for couples and true romantics to show each other how much they love and adore each other, but not wanting to miss out on the opportunity to spread some love; Comfy bingo have decided to get in on the act.
Comfy bingo are sharing a whole lot of love with all their customers this February, so even if you're not in a position to celebrate Valentines you don't need to feel left out, because everybody is included.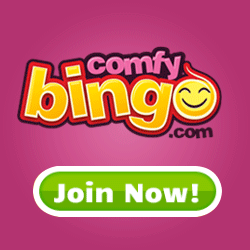 Fabulous February Comfy Bingo Promotions!

Are you in mood for love and a bit of retail therapy? Then grab your shopping bag and head over to Comfy Bingo and get ready to shop for fabulous bonuses till you drop, Mobile Bingo Bonuses wouldn't want your loved one to feel left out.
Especially for their bingo lovers, Comfy Bingo are running the type of promotion you would expect to see on the shelves of your local Asda or Tesco, Buy 3 Get 1 Extra offer all month long!
That means when you make 3 deposits, the 4th one is on Comfy Bingo. Hurry, put down three deposits today and fetch yourself an extra deposit equal to the lowest of the three deposits you made.
Make the most of this fabulous SALE at Comfy Bingo all month long and you could really cash in.
Comfy Bingo Welcome Bonus
Comfy Bingo just love dishing out bonus cash, and can't wait to have you as a new player.
Sign up today and you'll receive an incredible welcome bonus of £15 in bingo cash with no deposit required, you can use this cash bonus on any bingo, casino, slot or scratch card game available at Comfy Bingo, on your laptop or mobile
Deposit Bonuses
Bonuses at Comfy Bingo don't stop at the door; get an incredible 350% welcome bonus when you deposit your first tenner or more.
What's more, your second deposit of a tenner or more will get you a stunning 250% bonus. Finally make your third deposit of a tenner and receive another whopping bonus of 300%.