bet365 Grand National Bingo
Believe it or not the Grand National isn't just about betting on the horses, Mobile Bingo Bonuses know that you can also benefit from Grand National related promotions like the bet365 £100,000 Grand National Bingo promotion
Gallop over to bet365 now and play their fantastic Grand National Bingo games on Saturday 5th April 2014 to get yourself in the winners' enclosure.
The Guilty Pleasures room is where you will find all of the Grand National Bingo games, which will be packed full of big prizes to make you jump for joy, probably high enough to clear Beechers Brook, you can play from 12:06 until 23:54 UK Time, so make sure you're first at the post.
You'll be chomping at the bit for a share of £100,000 available in games such as Jockey's Final Hurdle and Super Saturday, lined up to celebrate the greatest four-legged race in the world.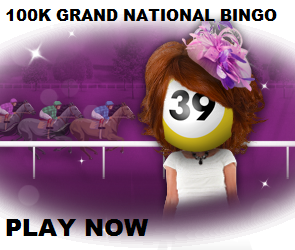 So don't horse around, buy your Grand National Bingo tickets today from just 5p – or play for a £10,000 prize-pot with a 50p ticket – and get yourself to the starting gate for a day at the races.
Grand National Bingo
You can find a full run of events and the prizes available below, but you can pre buy your tickets now at bet365 so there is no need to hang around all Saturday waiting to play.
12:06 Winners Race Roll On – £200
12:30 Teaforthree – £750
15:30 Triolo Dalene – £850
15:48 Jockeys Final Hurdle 1TG – £350
17:00 Double Seven – £2,000
18:00 Bingo Linx 1&2TG – £2,500
20:04 Winners Race Roll On Speed – £800
22:30 Super Bingo Linx – £10,000
22:55 Super Saturday – £1,000
23:30 Katenko – £2,000
If you fancy your chances on cashing in on the greatest horse race on the planet, then visit bet365 bingo today and buy your tickets now.