Tombola Mobile Bingo App
Tombola Mobile Bingo is Britain's biggest bingo site, and for those of you not aware of its many offers and promotions; Mobile Bingo Bonuses are here to let you know what you've been missing out on.
The new Tombola app has amazing online bingo games, which are adaptable for using on your laptop, mobile or tablet. They also have unique games which can only be found at Tombola Bingo, with everything to suit everyone's tastes.
Why use the Tombola Bingo App?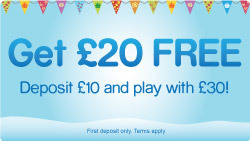 If you're not already registered with Tombola Mobile Bingo or have the Tombola app, Then you're in for a treat. New players who join the site will receive £20 credit to play on any games they fancy. So you can see why Tombola Bingo is so popular!!
As well as the initial registration offer, when you deposit your first £10 you will be given another £20 to play with. This certainly helps to prolong all the fun you can have on the Tombola bingo app!!
A heavy investment in the mobile slots and games sector, recently saw the launch of a dedicated gaming site called Tombola Arcade.
Tombola give away an average of £5 Million in prizes every week, in part due to the great promotions available. We're sure you're raring to go, but before you do here's a few extra benefits of joining the nation's favourite.
Tombola Mobile Bingo Promotions
Tombola Mobile Bingo on Facebook – If you like the site on Facebook you will be able to join the fun competitions and win great prizes including; onesies, vouchers and many more.
The Big Link Week – From Monday 24th to Sunday 30th March there will be a £2,000 guaranteed prizes on link games between 7pm – 10:30pm.
Bingo Roulette – From Monday 31st March to Wednesday 2nd April there will be guaranteed prizes of £100 (10p rooms), £200 (25p room) and £600 (50p room). This includes the Mirage, Luxor, Venetian or Bellagio games from 8pm to 10pm.
Roller-Coaster Weekend – It's fun, fast and has jackpots up to £5,000. From Saturday 5th April to Sunday 6th April 2014, there will be £75 guaranteed prizes in every game from 8pm to 10pm. Go for a spin in one or up to four carriages, each carriage costs 25p; if you fill your carriage with the first five bingo balls you could win the jackpot. If you fill the carriage with the first six bingo balls you could then win £500.
We're sure after learning all about the benefits of this top bingo site, you'll be ready to register. So why not head on over and download the Tombola Bingo App today.