No Limits Bingo with Lucky Pants Bingo
We at Mobile Bingo Bonuses love a game of bingo and it's difficult to imagine how the fun could get any better. Well Lucky Pants Mobile Bingo have found the way by introducing; No Limits Bingo!
No Limits Bingo appears to be a normal bingo game. The pot grows according to how many cards are purchased just like our other games – but there's a twist!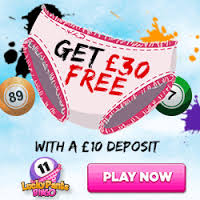 This clever little game has an extra-long buy time so unlike the normal pot games, this pot will continue to grow and grow until the game plays.
Unlike Pre-buy games where the prize is fixed regardless of the number of players, No Limits Bingo allows the pot to grow as big as the number of players who are trying to win it… there really are No Limits!
Cross your fingers and play daily, weekly their monthly 90 ball games.
When can I play No Limits Bingo?
To give each game a kick start, each game is pre – seeded as follows:
Daily 5p Game: Seeded at £20 Game plays at 11:00pm
Weekly 10p Game: Seeded at £50 Game plays every Thursday at 9:30pm
Monthly 50p Game: Seeded at £100 Game plays every 2nd last Friday of the month at 9:00pm
The sky is the limit so choose your favourite game today!
Lucky Pants Welcome Bonus
As well as an original and high quality gaming experience, using the best and most inventive providers present in the market. Lucky Pants Bingo is an enjoyable, original, fun environment which creates a new level of entertainment.
For those of you who haven't played with Lucky Pants Bingo you can register and automatically win by receiving 300% welcome bonus, that's up to £150!
Plus deposit £10 and get £30 credit, which means you play with £40 or deposit £20 and get £60 bonus which means you play with £80.
This promotion is open to all first time (new) depositing players on Lucky Pants Bingo when you open an account (minimum deposit £10 and maximum £50).
There are other amazing offers available on Lucky Pants Bingo including, spins on 'Spin O'clock', 'Discount Days' and many more.