Epic Bingo Valentines Promotions
Love is in the air and we at Mobile Bingo Bonuses are here to tell you about the best Valentines offers from an amazing site called Epic Bingo. Not only do they offer fantastic bonuses but they have a huge range of high quality gaming that will keep you entertained for hours.
Their fantastic promotions include;
Romantic Cashback – Deposit £50 or multiples of £50 and play your favourite slots every day, then you'll be awarded with a whopping 20% cash back.
Lovers Paradise – if bingo is the 1st love of your life then how about a chance to win anything between £143 and £1,430 every single day. Simply purchase tickets at the low price of 20p each, play their bingo game at 11pm and hopefully Epic Bingo can brighten your day.
A Heart and a Half More – Play a specifically chosen game on Epic Bingo every hour from 5pm to 11pm because they're giving away a whopping £50 cash in each game. This means that you could receive half the amount of your bet, now that's a Valentines treat.
Blind Date Special – Will you be the champion on Epic Bingo? The top player in bingo, slots, casino and instant games between the 1st and 14th February will win an amazing £150, which is plenty of extra gaming credit.
Welcome Bonuses at Epic Bingo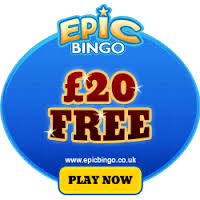 For those of you new to Epic Bingo you'll be delighted to hear that they offer £20 bonus credit when you register, with no deposit required. The bonuses don't stop there though because on your first three deposits you'll receive a whopping 900% cash match bonus split down as follows;
1st deposit, 250% cash match bonus,
2nd deposit, 300% cash match bonus,
3rd deposit, 350% cash match bonus.
The bonuses continue from the 4th deposit onwards with a special reload offer which depends on the amount added but could be up to a 400% cash match.
So if you fancy a chance at winning some great prizes, then we'll take you through to Epic Bingo.